SUPPORTING YOUR PRODUCTION CRATING NEEDS
Industrial & Commercial Mass Production Crating
Businesses in greater Charlotte, Western North Carolina and South Carolina have relied on Craters & Freighters' industrial packaging services and production crates for years because we provide comprehensive services to meet their shipping and storage needs.
Our dedicated team understands and supports a variety of industries such as:
Telecom
Utility and Power
Aerospace
Transportation
Construction and Infrastructure
Medical
Computer Sciences and Technology
Military
Further, we specialize in:
Customizing shipping solutions
Stabilization and protection
Producing and reading engineered drawings
Meeting MIL-spec requirements
We are local experts with a global network backing that allows us to create robust and unique packaging and shipping solutions for a wide range of demands. From simple to complex, our experience, expertise and resources will successfully navigate your mass production and industrial packaging crating needs including skids, pallets, vapor barrier bagging and heat shrink wrapping.
Production Crating Services
Skill, dependability and a high level of performance are the standards we set at Craters & Freighters in Charlotte. We've mastered production crating through the years and are dedicated to protecting your valuable assets through the shipping stream or for safe storage.
We start by truly understanding our clients, their machinery, equipment, products and needs. We ask questions to understand the end goal, timelines, distribution and volume to create a streamlined and convenient process for crating, whether on or offsite.
We provide top quality products backed by skilled services such as:
Custom wooden crate solutions
Custom corrugated packaging options
Custom designed pallets and skids
MIL-Spec crates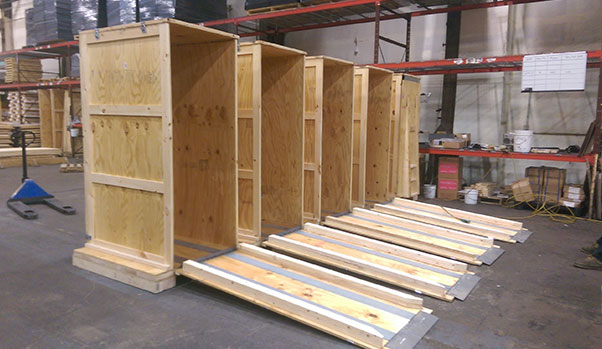 On-Site Crating

Oversized, bulky, fragile, or awkward items need special care and attention. Your time is precious and safety is a top priority. These are a few reasons why we offer on-site crating for items that are inconvenient to bring to our warehouse.
Working with sensitive equipment and valuable machinery is our specialty. Whether at our warehouse or on location at your business, we bring the expertise, quality workmanship, technological tools and specialty packaging needed to protect your assets.
What to Expect From our Expert Team
A review of your needs, objectives, timeline and asset specifications
Any needed factory visit to collect information
A safe and secure industrial packaging plan
Custom drawings and engineer designed custom crates
High quality cushioning and packing solutions backed by blue-ribbon customer service

Are your needs difficult or challenging? We'd like a chance to take it on. With our global network of resources and experience and custom-designed packaging, we are confident we can find a solution.
Get a fast, free, no-obligation cost estimate from Craters & Freighters in Charlotte.
Provide some information on your needs and we'll get back to you right away with a figure you can use in your planning.
Services offered throughout the greater Charlotte area, Western North Carolina and South Carolina.