SKILLED ASSISTANCE AT YOUR LOCATION
On-Site Packaging and Crating Services in the Greater Charlotte Area
Craters & Freighters in Charlotte, NC offers an array of on-site packaging and crating services. Our experts can travel to your business or factory and build custom crates and skids for items that need special care. Some items are too fragile, heavy, oversized, or awkward to move without cushioning, stabilizers, or proper containerization. If that's the case, we can come to your location.
Specialized commercial packaging is our bread and butter. Industrial crating, unique cushions and stabilizers, custom crates – there is nothing too big, too heavy, too fragile, or too awkward for us.
Bulky and awkward assets need extra attention, and our years of industry experience means we have the connections and knowledge to do the job right.
Sensitive or fragile items, assets with high value or those that need controlled environments like static-free, moisture resistance, or temperature levels, are difficult to transport or ship. This is why we come to you, bringing our equipment and high level of service to your door.
We will ensure all the security, safety, and care measures are met so you have the peace of mind that your assets get to their intended destination.
Custom Crates at Your Doorstep
We offer turnkey crating solutions for customers who need crates brought to their location. Whatever it is you need to crate, we can deliver custom containers right to your door to simplify shipping or storage.
With no size or weight restrictions, we make crating easy.
Our custom on-site crating services include solutions such as wrapping, cushioning, and bracing materials to protect assets even further. Wondering if your project is one we can handle?
Some examples of our on-site packaging offerings include:
Custom-engineered wooden crates
Corrugated containers
AutoCAD-designed crates
ISPM 15 export-certified crates
Reusable Trade Show crates
Crates with floater bases for Servers & Electronics (anti-static)
Military (MIL-Spec) crates
Knockdown crates
Display crates
And these have been used for storing and/or moving
Aerospace parts
Antiques
Fine Art & Statues
Industrial equipment
Manufacturing machinery
Medical Devices
Prototypes
And more
On-site Packaging and Crating Services
No shipping or crating project is too big or too small for us. Backed by decades of experience and state-of-the-art crating and packaging solutions, we provide the knowledge and skill to support your needs including:
Rigging Services
LARGE SCALE LIFTING AND LOADING EXPERTISE
Do you have oversized equipment or heavy machinery to move? These often require forklift and rigging services to help with securing transportation for relocation.
Our engineers and expert crating team can design a custom plan to lift, load and package your heavy equipment for storage or safe transport across the ocean or country, or within the RTP, Triad, and Eastern North Carolina.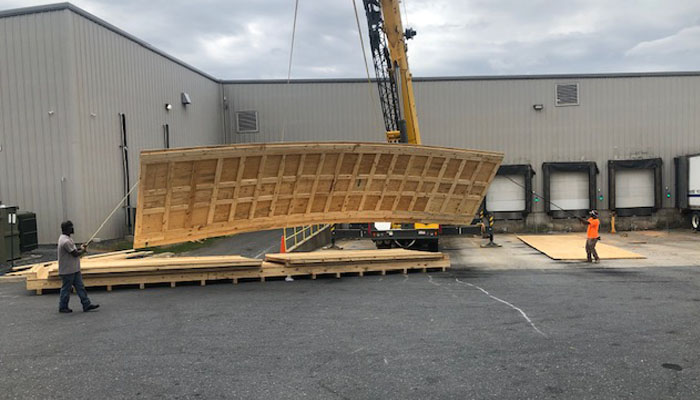 Get a fast, free, no-obligation cost estimate from Craters & Freighters Charlotte.
Provide some information on your needs and we'll get back to you right away with a figure you can use in your planning.
Services offered throughout the greater Charlotte area, Western North Carolina and South Carolina.